Trademarks of the Bornay Group
Bornay Group is made up of three firms –Bornay, Tuflesa and Comalsid– and each of them specialises in a different sector:

Specialised in precision tubes and stainless steel tubes. Bornay's products are used by various sectors, including the automotive, metallic furniture and agricultural sectors. The company manufactures according to the UNE-EN 10305-3, UNE-EN 10305-5, UNE-EN 10296-2 and UNE-EN 10217-7 standards.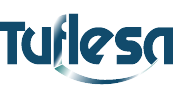 Manufacturer of structural tubing according to the UNE-EN 10219 standard. Mainly intended for the construction sector, renewable energies and the construction of greenhouses for agriculture. Also used by industrial machinery construction companies and warehouses that distribute structural tubing.

Company specialised in additional processes for the manufacture of welded steel tubes. Its activities consist mainly of laser cutting and circular saw cutting.